Marriage Certificate In Delhi | Marriage Registration in Delhi 09540005064 Call Us
Marriage Certificate In Delhi Rs 999 | Marriage Registration in Delhi 9540005064 Call Us | Delhi Marriage Certificate | Marriage Certificate Online
Almost all people of Delhi are more focused on venue wedding, dishes menus, and wearable as no one is thinking about "marriage registration in Delhi" a legal aspect of marriage. We are most of us are feeling lost in planning your bachelor party and destination wedding. But people of Delhi also remember that Marriage Registration in Delhi and getting a valid marriage certificate in delhi are also essential aspects of of life after getting married. Hence, kindly find at how to apply for marriage registration in Delhi online and NCR region of Delhi
You can simply go online apply for online marriage registration in Delhi on the website Government.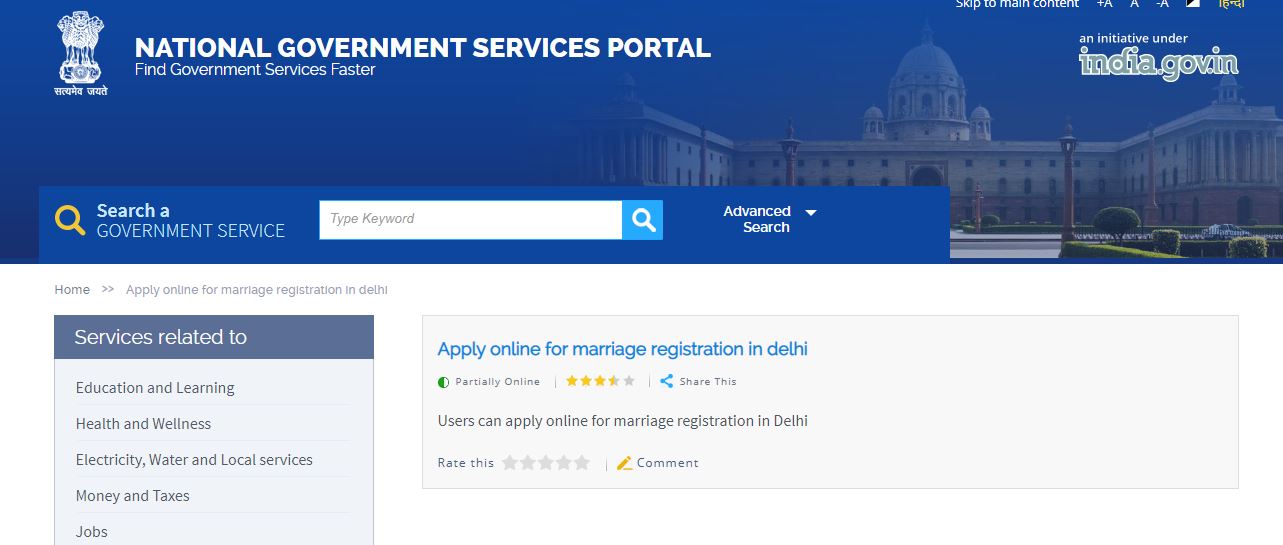 Visit The website:- Creat Login id and password and apply online or call us 9540005045 or whats for help online
Note :- Complete procedure with Video is at the end of article, How to marriage certificate online in delhi.
WHAT IS MARRIAGE CERTIFICATE?
A Marriage Certificate is a certificate that proves relation between husband and wife. Marriage certificate is issued by district marriage registrar, as per religious marriage and special marriage acts.
TYPES OF MARRIAGE CERTIFICATE IN DELHI
1 Tatkal Marriage in Delhi :- Takal marriage certificate is applied by those who need an urgent marriage certificate for resolve there purpose or who not want to wait more time. we also called fast marriage certificate as well as it issued by the Delhi government in 24 to 48 hr only.
2 Normal Marriage Certificate:- On the other hand, normal marriage certificate take 21 to 30 day time. Generally, Delhi people prefer Tatkal marriage certificate but normal marriage certificate have low cost in comparison to takal marriage certtificate of delhi
MARRIAGE REGISTRATION ACTS IN DELHI
Currently there are two marriage registration acts applied at delhi under which marriage certificate is issued in delhi:
The Hindu Marriage Act, 1955 in delhi : When marriage is already solemnized where Husband and Wife are Hindus, Buddhists, Jain or Sikhs or when they are converted into any of these religions, they will be considered under these registation Act.
The Special Marriage Act, 1954 in delhi : Whereas, this act lay down the procedure for both solemnization and registration of marriage certificate where either of the party or both are not Hindus, Buddhists, Jain or Sikhs.
This certificate can be presented at many places such as passport office, court, Bank, insurance offices, etc. to prove bride and bridegroom were married on a particular date.
How to Get Marriage Marriage Certificate in Delhi
Case -1 If You have time and have Technical Knowledge. Then try Your self (Follow the below process)
Case-2 You don't have sufficient time and not technical sound over the internet.
WHO CAN REGISTER MARRIAGE IN DELHI
Either husband or wife has address proof of Delhi
Marriage took place in Delhi
ELIGIBILITY CONDITION FOR MARRIAGE REGISTRATION IN DELHI
Both the parties should be of sound mind, capable of giving valid consent, fit for marriage and procreation of a child.

Male should have completed the age of 21 years and female should have completed the age of 18 years at the time of marriage.

Parties should not come within the degree of prohibited relationship unless the custom or usage governing each of them permits of a marriage between the two.
DOCUMENTS REQUIRED FOR MARRIAGE CERTIFICATE IN DELHI
1. 5-5 Passport Size photos of Husband & Wife Each.
2. Aadhar Card and /or Voter Card of Huband and Wife should be from delhi
3. Address Proof of Bride and Groom ( Any One ) - Voter Card of delhi / Driving License / Passport / Bank Passbook with photograph
4. Marriage Invitation Card or Marriage Document of Gurudwara /Temple
5. Age Proof of Husband and Wife ( Any one ) - Birth Proof / 10th Pass Document / Driving License / Passport
6. 2 Witnesses with Pan Card and Address Proof.
7. Divorce Decree in case of any or both Bride and Groom are divorcee.
8. Death Proof / Document of previous spouse in case of widow or widower.
9. Marriage photograph two of husband and wife
LIST OF MARRIAGE REGISTRAR OFFICE IN DELHI
Address of Marriage Registrar Office , North Delhi - 1, Kripa Narain Marg, Delhi.
Address of Marriage Registrar Office, East Delhi - I&F Office complex, LM Bandh, Geeta Colony, Delhi
Address of Marriage Registrar Office, South Delhi - MB Road, B.D.O.Office, Near Anupam Aparments, Saket, New Delhi and Old - Tehsil Building, Mehrauli, New Delhi
Address of Marriage Registrar Office, West Delhi - Old Middle School Building, Rampura, Lawrence Road, Delhi
Address of Marriage Registrar Office, Central Delhi - SDM office, Karol Bagh-Jhandewalan, New Delhi
Address of Marriage Registrar Office, New Delhi - Jam Nagar House, Near India Gate, New Delhi
Address of Marriage Registrar Office, South-West Delhi - Old Terminal Tax Building, Kapashera, Delhi
Address of Marriage Registrar Office, North-East Delhi - Weaver's complex, Nand Nagari, Delhi
Address of Marriage Registrar Office, North-West Delhi - Bawana Road, Kanjhawala, Delhi
MARRIAGE REGISTRATION PROCEDURE IN DELHI

?
Step -1 Create online credentials at http://edistrict.delhigovt.nic.i.... This is a must
step 2. You need to create your account with Adhar or voter card..
step 3. Need to Fill the details of husband, wife and 2 witnesses.
step 4. Need Prepare affidavits legally, though the format is online but most SDMs have their own formats.
step 5.Now you need to prepare the affidavits as per format call us 9540005064 before making affidavit 9540005045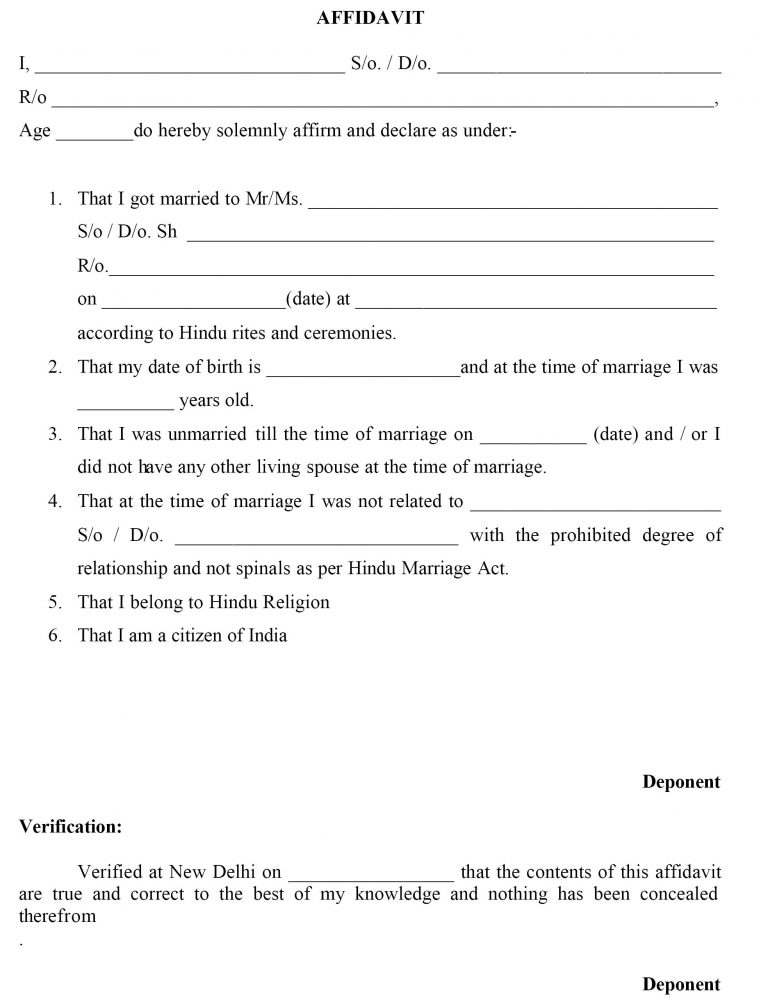 step 6 . you need to visit SDM office and there are 58 sdm office in delhi .if you are lucky, you will find the person concerned of you may need to wait for 1–2 hours or visit again. In my case I got the format on second visit.
step 7. You need to upload the documents. Remember each document should be below 100kb and in jpg format.
step 8. If you are not able to upload any document correctly if can't b uploaded again. The website will simply show "already uploaded ". BE CAREFUL
step 9. This whole uploading process takes more than 2 hours and finally an appointment will be arranged.
step 10. Now as per acknowledgment slip you need to visit SDM office again to get your file verified.
step 11 Take Appointment Online or Call us to help 9540005026 for same and visit sdm office and get your certificate
TO BOOK Service Fill Query Form. for any query